The number of British RC-135 Rivet Joint reconnaissance flights has tripled in six months after Russia began hostilities in Ukraine. This was reported by the UK Defense Journal, citing data from the Ministry of Defence.
The number of sorties increased from six in December last year to 18 in March, and then decreased to 14 in May. "Great Britain increases the frequency of such flights to collect intelligence with the presence of American aircraft," noted the publication.
This week, British RC-135 aircraft continue to fly over the Black Sea near Ukraine to spy on Russian troops, according to him.
At the same time, the UK does not have aircraft that could refuel the RC-135, the publication indicated. A number of British and American aircraft are regularly refueled from close allies, the MoD explained.
RC-135W Rivet Joint— This is an electronic radar reconnaissance aircraft for strategic and tactical missions. Its sensors "absorb" electronic emissions from communication systems, radars and other systems. The UK operates three of these aircraft.
Russia launched a military operation in Ukraine on February 24 after months of warnings from foreign media and politicians. Representatives of 141 out of 193 countries of the UN General Assembly condemned the actions of the Russian authorities, demanded a ceasefire and the withdrawal of troops.
The UK has become one of those countries that imposed unprecedented sanctions against Russian politicians, businessmen, enterprises and banks, as well as provided military and humanitarian assistance to Ukraine.
Read on RBC Pro Pro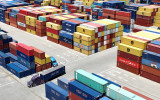 Most sellers have raised prices on marketplaces. What are their mistakes Articles Pro 5 trillion rubles. falling incomes: what is the mood of the service sector Research Pro Migrants have gone to couriers. Why builders can't find workers Instructions Pro International logistics in 2022: how goods are imported to Russia now trading in foreign shares. What will happen to the St. Petersburg Exchange Forecasts Pro "I'm like a ninja in a street fight": Ray Dalio – on the impact of meditation quality of your life